Do you want to learn the basics of trading, but don't want to risk your hard-earned money? Then you should try a trading simulator game.
A stock market simulator game lets you buy and sell stocks without putting real money at risk. You can learn how to analyze the market and charts, sell and buy assets and manage risks. And most importantly – you can do it in a safe environment without any fear.
There are many simulators out there, but not all of them are good. To save you time and effort, we have analyzed the most popular ones and came up with a detailed head-to-head comparison of the three best ones.
Which stock trading simulator is the best?
Here are the best trading simulators for those who want to learn the basics of trading without risking a penny:
Investopedia Simulator: Web
To see the TOP11 best stock market simulators, you can check out this ultimate trading simulator comparison article.
Trading simulator comparison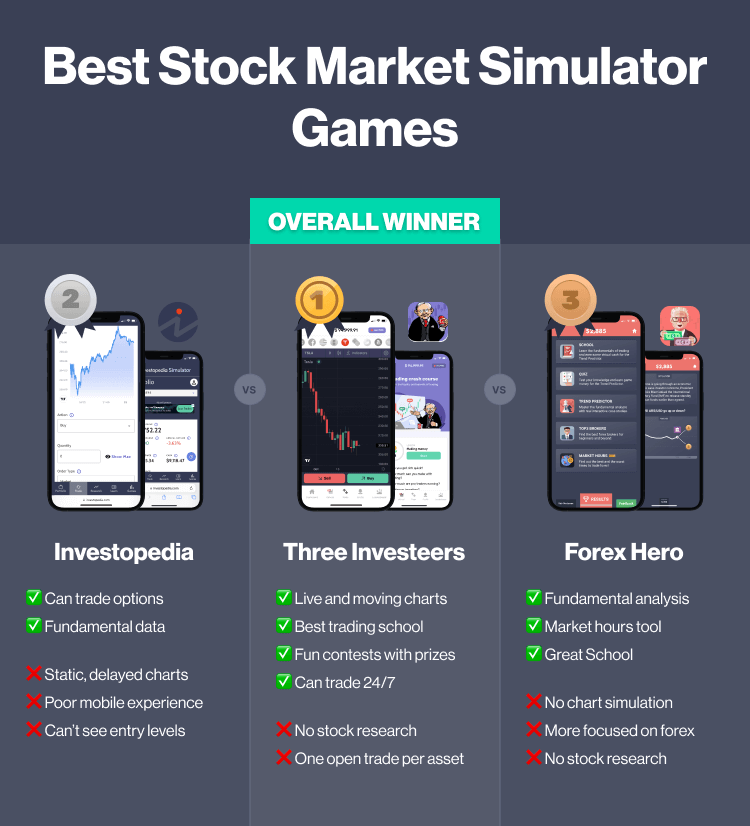 According to our research, the best trading simulator game is the Three Investeers, which offers a cutting-edge trading simulator with pro-level charting and an amazing trading school.
The second place goes to the Investopedia simulator, which has been very popular over a long time but has not been updated for several years, thus it doesn't provide all the modern tools and flawless user experience on mobile phones.
The third place goes to Forex Hero, which is not a classical trading simulator but is the only app with an amazing interactive course about Fundamental analysis. The Trend Predictor section of this app offers interactive real-life case studies where you can try to predict how the prices of stocks and currencies would react based on various economic or political events.
Which trading simulator is best to learn live trading?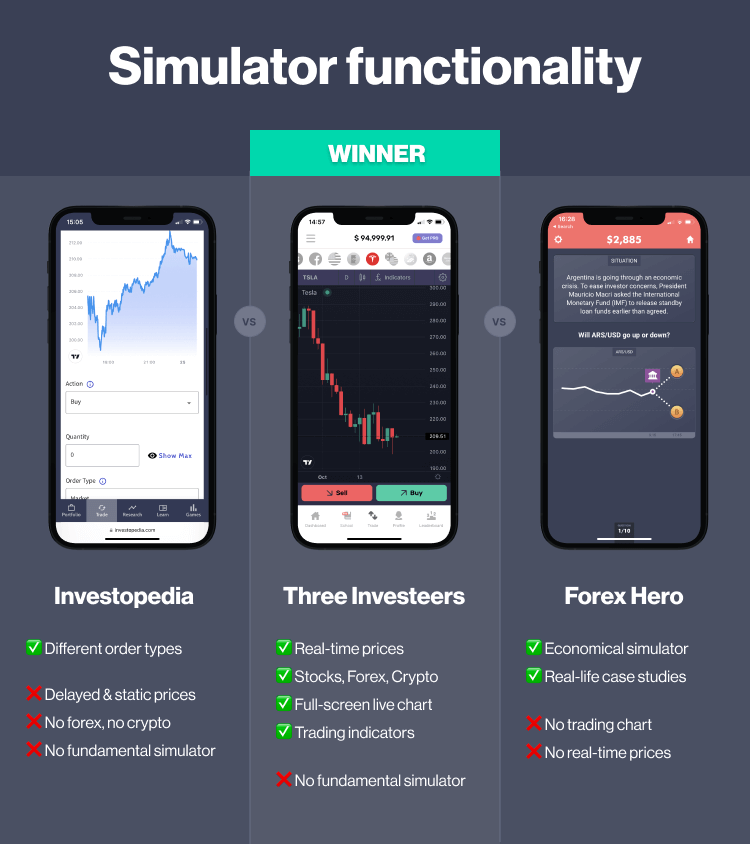 The best way to practice trading is by using a simulator that offers real time prices.
You'll be surprised to find out that most trading simulators have prices that are delayed by 15 minutes or even a day.
Having delayed prices or a chart that is updated only at the end of a trading day is not only boring, but it's also very ineffective to learn how the market responds to various events.
The Three Investeers trading simulator is one of the only simulators out there that offer live prices. Their prices are updated up to 10 times per second. This makes the trading experience very exciting and valuable.
In comparison, the Investopedia simulator feels frozen and unresponsive, as their charts are updated only at the end of the trading day.
Forex Hero doesn't have a trading chart at all. Instead, it has something that the other apps don't have – a fundamental analysis simulator.
Where can I learn the basics of stock trading for free?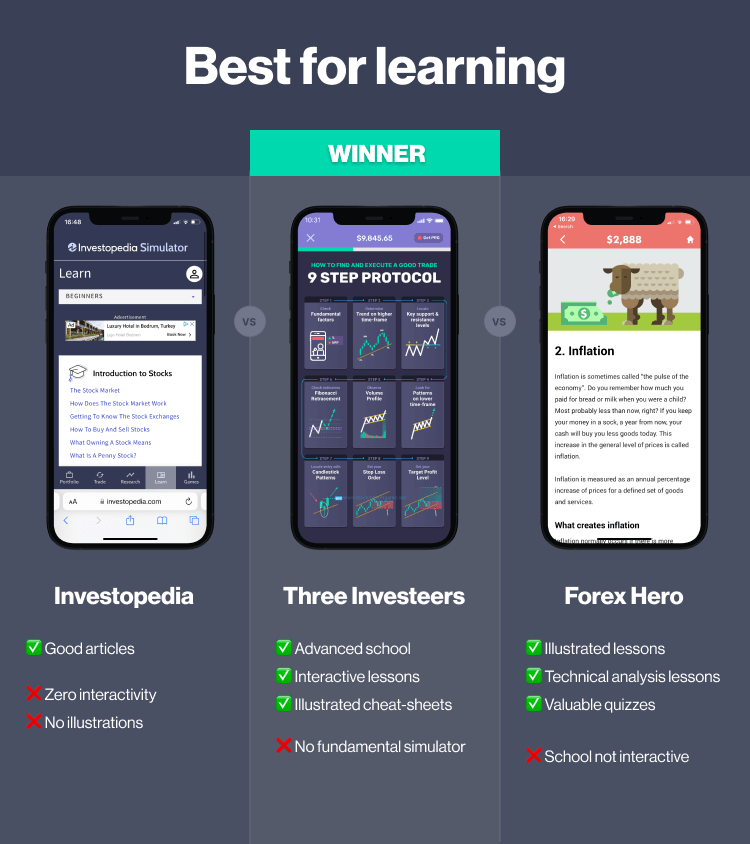 If you want to learn the basics of trading for free, you can start with the Investopedia simulator. It has a learning section with nice articles about the basics of the stock market. However, their lessons offer zero interactivity and are quite mundane. Thus you'll get bored quickly.
The best learning courses are in the Three Investeers and Forex Hero apps.
As the name suggests, Forex Hero has more lessons about forex, but they also have many lessons that apply to all markets, including the stock market.
They both feature interactive learning materials that are shown to boost students' results significantly. You can uncover tricks and advice from pro traders, chart pattern strategies, use candlestick charts, and avoid big losses using proper risk management. You can learn the basics for free and upgrade to a pro subscription to unlock the advanced lessons.
Are paper trading simulators worth it?
Trading simulators are good as a first step in the learning journey, but they can cause harm if you don't understand their limitations.
Trading simulators are great for learning how different nuances of the market work.
Unfortunately, many beginners get good results on a simulator and get false expectations that they will easily replicate those results with a real trading account. Most of them end up losing their money.
Here's the problem – trading with virtual money will not make you second-guess your decisions and regret your mistakes. The emotions involved with trading real money are completely different. And good trading is all about managing emotions.
Here are the three steps that most pro traders suggest to learn trading:
Start with a good trading simulator. Practice until you can get steady profits and learn how to cut your losses as soon as possible.
Open a real trading account AND TRADE SMALL. This is absolutely key. Invest $100 – $300 or whatever you can afford to lose without breaking the bank. Each position should not be bigger than 10% of your whole account. Trading with real money, even if it's small, will teach you more than any book will ever do.
Only once you get steady results can you gradually start to increase the trade sizes. You should never deposit more than you can afford to lose. Even the best traders can have five or more losing streaks in a row.
As to the trading simulators – you can start with a trading simulator game like the Three Investeers, and after a month, open a paper money demo account with a broker.
Paper money simulators are less fun to use, as they are more complicated, and you don't have leaderboards where you can compete against other beginner traders. But a paper trading account will allow you to learn the intricacies of a real trading platform, which is crucial for real trading.