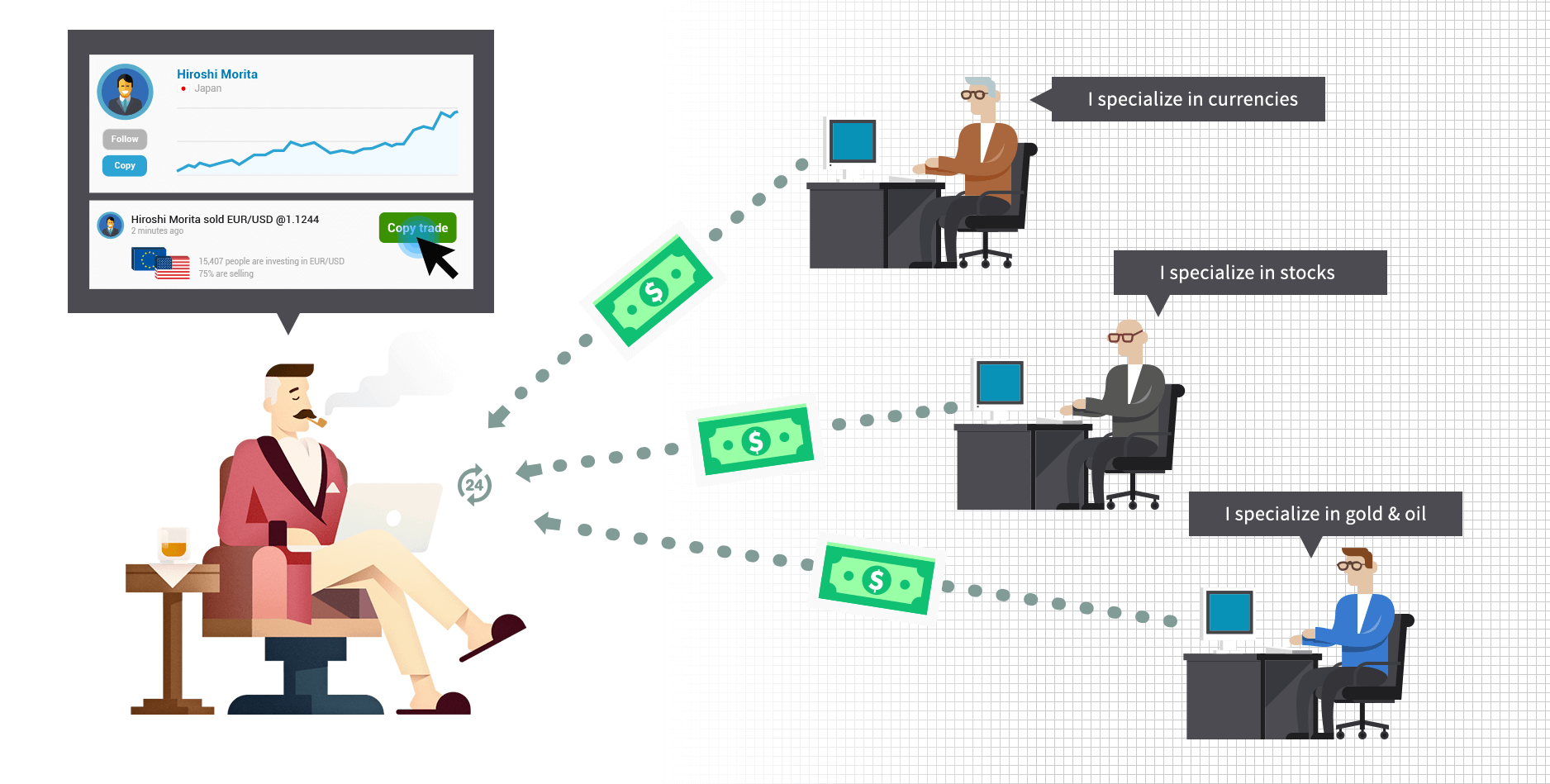 eToro Social trading network (a.k.a Copy trading platform)
eToro is the world's first, and biggest social trading network. For nearly a decade, the company's platform has been at the forefront of online trading, and has introduced innovative social features which enable its clients to save time, learn from other's experience, share knowledge, and become better traders. By developing features such as CopyTrader™, the Popular Investor program, and CopyFunds™, eToro has solidified its status as the world's leading social trading network.
What is social trading
While early versions of online trading platforms were mere duplicates of traditional trading, eToro's social trading features were what set it apart from other platforms. Social trading harnesses the wisdom of the masses for online trading, by enabling clients to copy other traders using the CopyTrader™ system. CopyTrading is a great solution for those who wish to trade, but lack time or experience, and for those who wish to hone their online trading skills. And it really works: Since 2010, some 124 million trades have been copied on eToro, with a success rate of 80%.
Another evolution of social trading are eToro's CopyFunds™, which bundle together several successful traders, or several assets following a certain market strategy, into one tradable fund. CopyFunds™ are constantly optimized by a sophisticated algorithm, programmed for lowering risk and increasing profit, so they are a great option for long-term investments.
Best Social Traders to follow and copy
There are plenty of Popular Investors to follow on eToro, each with their own market approach and strategy. Here you can see some of the best Popular Investors you could follow and copy: (You must wait a little moment until the data loads)
Risks of social trading – top mistakes of beginners
Social trading is a great way to automate trading habits, save time, and learn about online investment. However, there are some mistakes new traders often make, and should try to avoid:
They only look at yield: While it could be tempting to copy someone who's shown massive gains recently, it is better to look at all of the details (such as open positions, Risk Score, etc.)
They don't take strategy into account: Some Popular Investors have a long-term strategy, which could include temporary losses along the way. And yet, some copiers are easily deterred by such losses, and stop copying a trader if they lose, without seeing the entire cycle through.
They put all of their eggs in one basket: Investing in people, just like investing in assets, involves risk. Therefore, it is important to diversify your people-based portfolio with several traders, who invest in different assets, and have different strategies, to spread-out your risks.
Read the article Top 9 Mistakes of Beginner Forex Traders if you are interested in more mistakes that you can avoid doing.
How much money the popular investors make?
Many people are asking us – "How do the traders we copy make money?" The truth is that eToro's Popular Investor program rewards top traders with great perks. Popular Investors enjoy a spread rebate of up to 100%, a monthly cash payment of up to $1,000, and, once they reach Elite Popular Investor status, 2% of their Assets Under Management (AUM). It seems like an easy way to make money, but in fact it takes a lot of hard work to maintain great results and thus followers.
Social trading app
To ensure their clients can access their account and make trading decisions on-the-go, eToro offers a user-friendly mobile app. The app features an intuitive interface, and offers all of the features available on the platform, such as opening and closing positions, viewing the social news feed, and finding traders to copy. Using push notifications, the app keeps eToro clients updated with recent news development and happenings relevant to their portfolio.
Your capital is at risk. Past performance is not an indication of future results. The content is intended for educational purposes only and should not be considered as an investment advice.