What is eToro CopyTrading?
If you're a beginner learning the basics of trading and investing, or you don't have time to monitor the markets all day long, using eToro's CopyTradery you can automatically copy top-performing traders, instantly replicating their trading activities in your own portfolio.
In recent years, eToro has become the world's leading social trading platform with more than 20 million active users. 
After reading this article, you will know how to separate traders who are really worth copying from those who just got lucky in the short term.
Don't miss tips #7 and #9 – they will change how you look at copy trading!
??  Below content does not apply to users from the USA
1. Begin with Risk Management
All Effective investments begin with risk management. The markets can be highly unpredictable, particularly when you are trading volatile assets like currencies.
Wise traders seek to balance their investments with a diversified portfolio. If you are trading a wide range of assets, you will not be vulnerable to single losses, i.e., if one asset crashes, others will continue to perform, and you will not lose out financially.
The old cliché about not putting all your eggs in one basket has never been truer – or more important. Aim to copy a range of Popular Investors who have diversified portfolios themselves.
If you want to copy niche traders like currency or indices specialists. But also consider copying other people who trade commodities, stocks, and ETFs.
Even a few carefully chosen copy trades can give you exposure to the wider markets and a balanced portfolio.
2. Review each Popular Investor's public profile and stats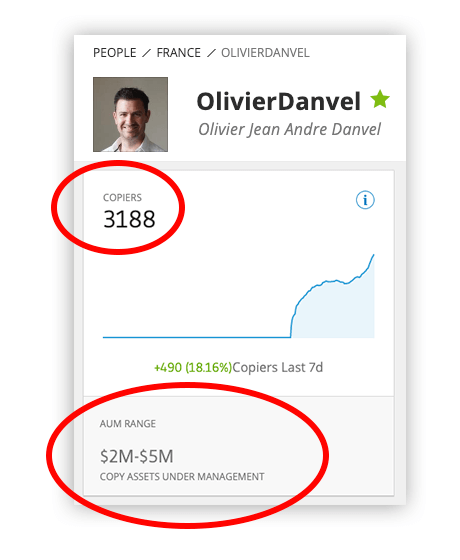 Unlike other Social Investment Networks (Tradeo, Zulutrade, and others), every serious eToro trader who opts for social trading has a public profile with his real name and picture that any other trader can look at.
This doesn't contain any sensitive information like personal details or account balance, but it does show their trading activity and statistics.
If you're thinking about copying someone, it pays to check him or her out properly. This is just another aspect of risk management and is, in fact, basic common sense.
Unfortunately, some traders don't take the time to do their due diligence on somebody whose investments they plan to copy. Copy Trading Checklist:
Time on the platform – you should avoid young accounts.
The number of copiers – a big number of copiers is a good sign, but it doesn't provide 100% security.
News Feed Activity – is the trader active and shares valuable info?
Personal Portfolio – is it diversified or specialized?
Stats – look out for old open trades that are in the red!
Risk Level – avoid big risk numbers (6+) unless you are super sure about the trader
3. Be cautious when you see huge return percentages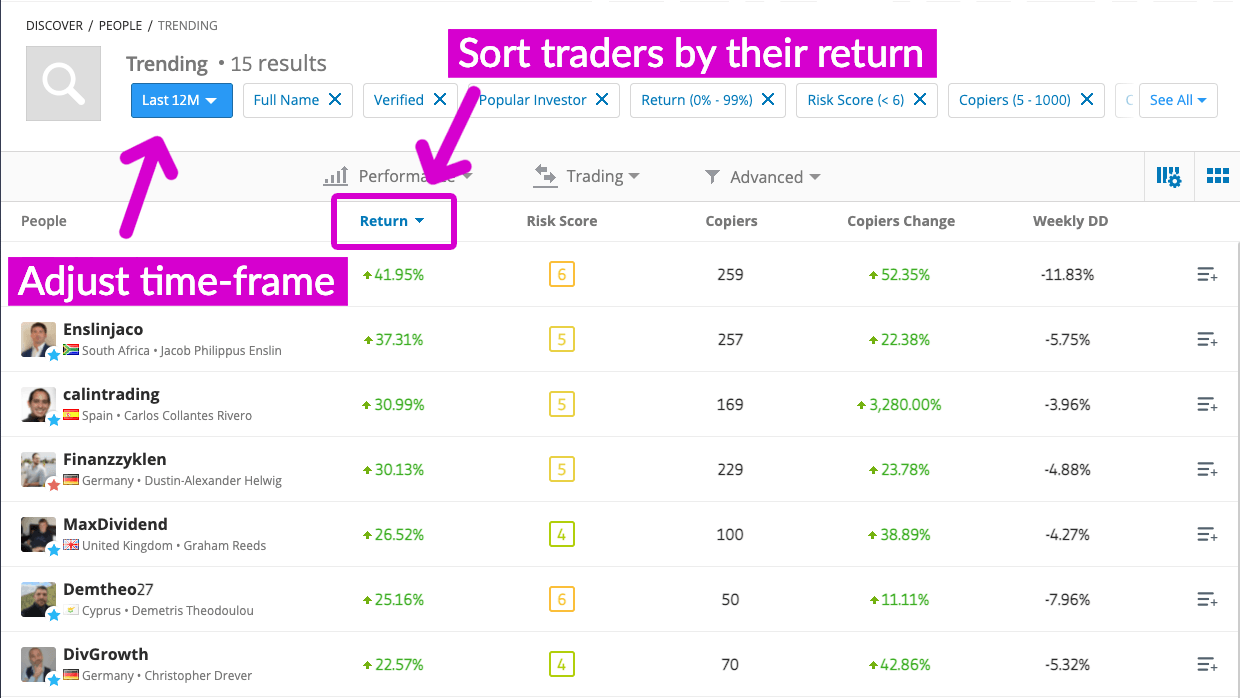 Disclaimer: Past performance is not an indication of future results.
Do you know what the average annual return of Warren Buffett's investment fund is?
It's around 20%.
I bet you expected it to be much higher, right? After all, Warren Buffett is the most successful investor out there.
Of course, Warren has had years when the return has been much higher.
But you shouldn't expect to have annual return percentages in the hundreds constantly.
So look at the return (Last 12 months) of eToro popular traders.
The average 12-month returns of eToro popular traders are usually around 10% – 40%, which is very reasonable.
However, when you see a trader with a higher return than others, you should be careful. He likely has a high-risk strategy, which could not be suitable for your risk tolerance.
Be careful with numbers that look too good.
It's also ok to have losing trades.
Even George Soros admits he has made a lot of wrong calls, including betting that the UK would vote to remain in the European Union in the Brexit referendum.
Losing trades are a part of the game, even for the best traders. So don't be alarmed by separate months that are in the red. It all comes down to long-term profitability.
4. Check the Editor's Choice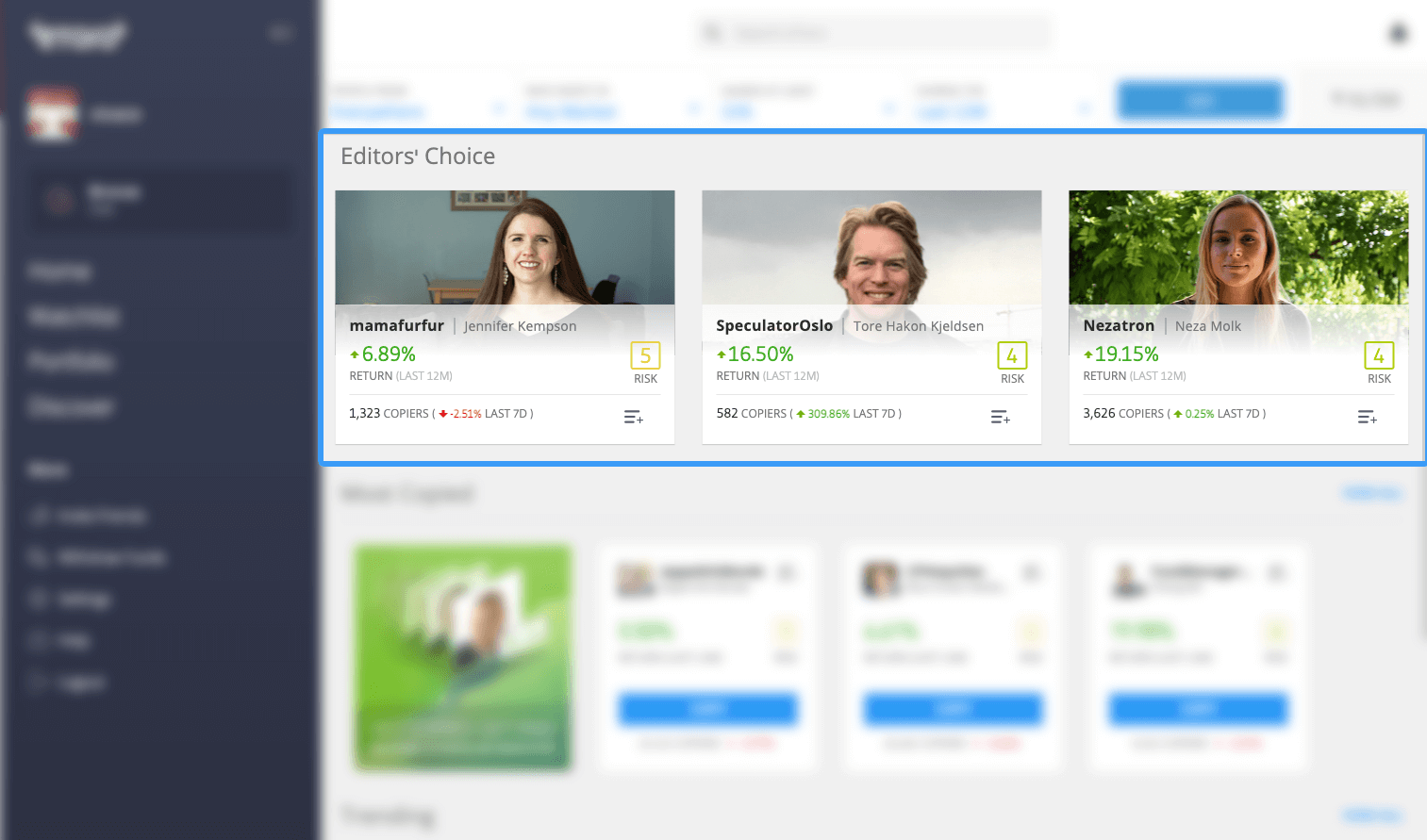 Past performance is not an indication of future results. The trading history presented is less than 5 complete years and may not suffice as a basis for investment decisions. This is not investment advice.
Editor's Choice showcases a selection of top Popular Investors who have caught the eye of eToro's own trading experts. You can see a picture of each investor, complete with key info from their profiles and a summary of their trading and strategies. Editor's Choice is a great way to check out Popular Investors who are currently highly rated and get your first insights into copy trading.
You can add people shown on Editor's Choice straight to a Watchlist with a single click or go straight to their full profile and talk to them directly via their News Feed. Anybody looking for a fast and simple introduction to the basics of copy trading should begin by looking at Editor's choice.
5. Look at the age of the account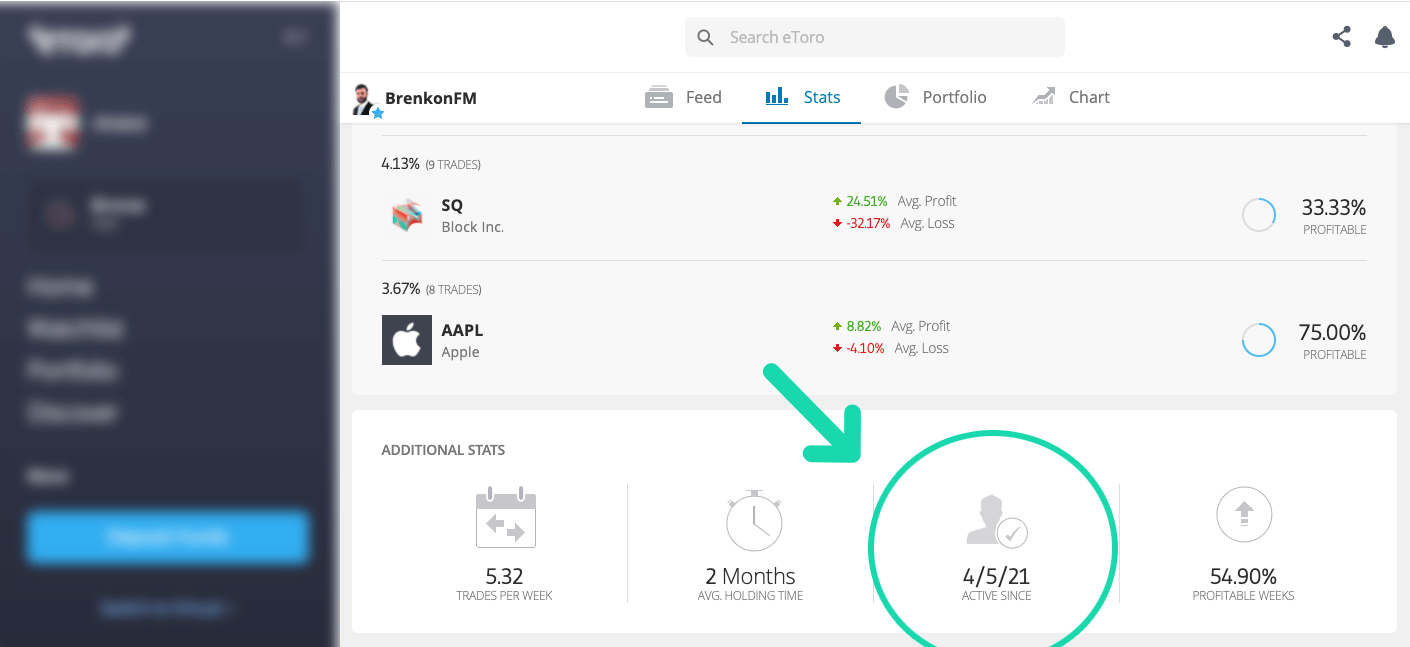 Before copying a trader, you should also look at his experience. There is an increased risk of copying young accounts, as you need at least 6 months to understand their strategies' effectiveness and sustainability.
Any trader can hit a lucky streak in the short term or find niche market conditions that offer a string of gains.
Only the truly skilled and knowledgeable can achieve good results consistently.
Still, don't be put off if you see some losses or poor months on a Popular Investor's Stats.
Serious traders expect some losses and are prepared to accept them and learn from them.
6. Stay informed about what the Popular investors are getting paid for!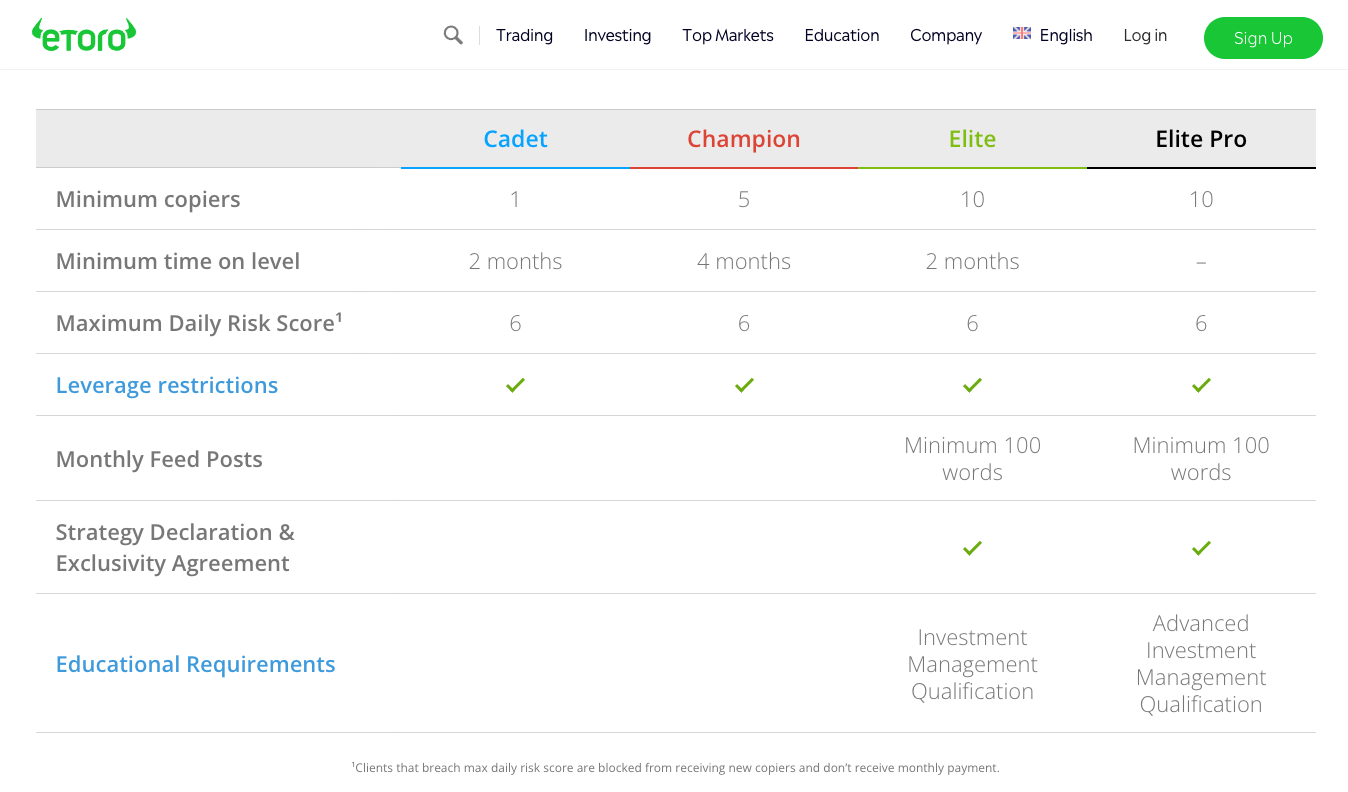 In The first versions of the eToro CopyTrade platform traders were paid for the number of copiers they had. Some traders naturally used this and manipulated their statistics by creating fake accounts with demo money to bulk up the number of followers and copiers.
These tactics are still used on some other platforms so check these issues before copying! 
For some time now, eToro has introduced a new and more sophisticated system for the Popular Investor (PI) Program. It is quite demanding for investors who want to get compensated by attracting copiers under them. This is good news for copy-trading beginners.
Still, it is important to keep an eye on how the terms for the PI program develop to understand the motivations of the traders you are copying.
7. Look at the losing positions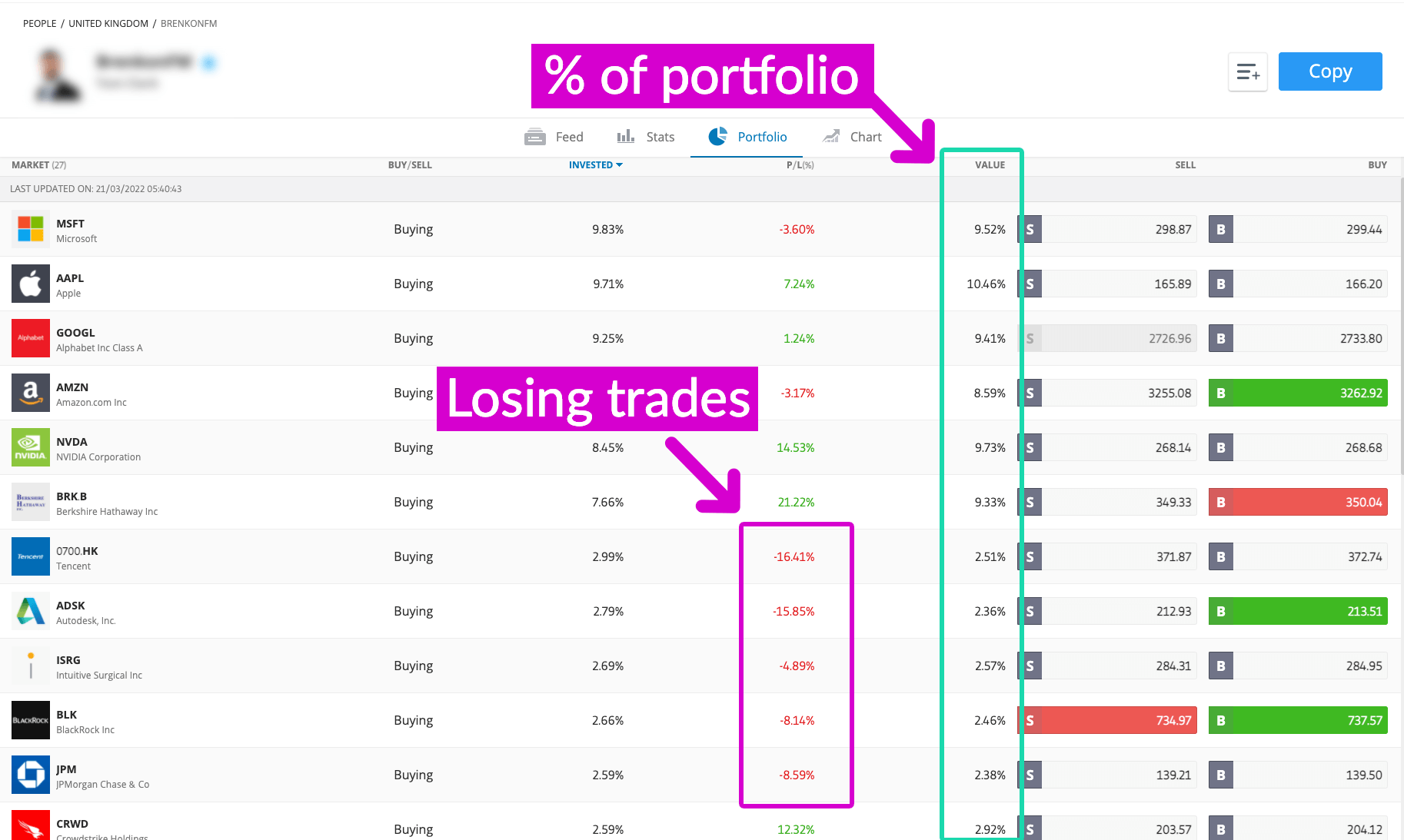 Indicative prices; the current market price is shown on the eToro trading platform
To understand the current state of a trader's portfolio, go to their Portfolio tab and look at the value of their losing positions.
You should be cautious with traders who have many losing positions open that constitute a high percentage of their overall portfolio.
8. Protect your funds with Copy Stop-Loss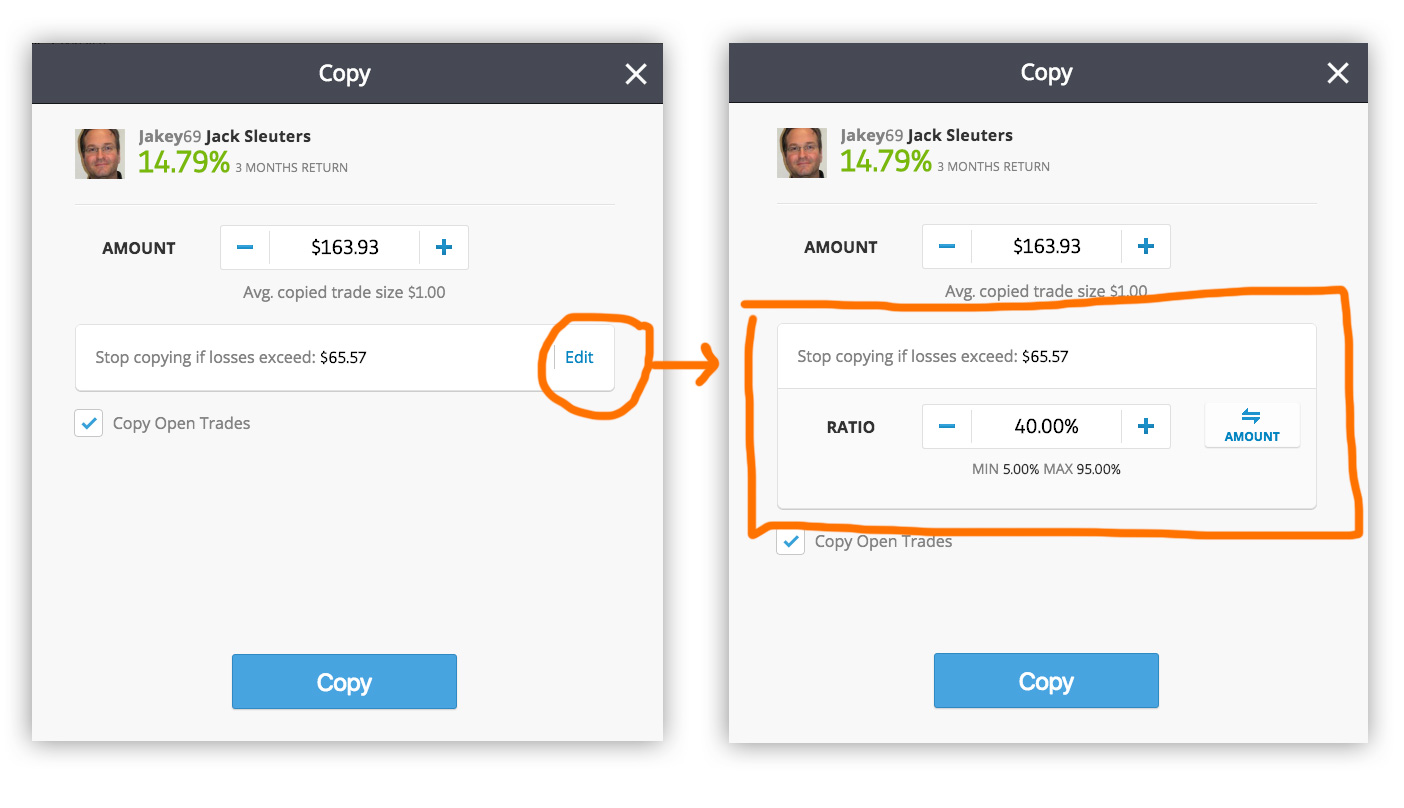 When you open your first copy trades, it's unlikely that you'll be able to monitor them on a full-time basis. If you're a mobile trader (and we strongly recommend that you should be), you can log in regularly. But even this is not always practical. A good copy trade is often a long-term investment. Some traders let copies run for months or even years.
One very effective solution is to set a Copy Stop-Loss whenever you open a copy trade. If the Popular Investor who you are copying suddenly begins to lose money, you will be protected against unacceptable losses.
The Copy Stop-Loss will automatically close the copy trade at any point. If you have diversified your "people portfolio" and are copying a wider selection of Popular Investors, there is a chance that you will have effectively cut your losses and will continue to profit from your other copy trades.
9. Be cautious of traders who recommend setting the copy stop-loss (CSL) at maximum levels
This is a tip from Kenneth Mowat, a.k.a. Simple-Stock-Mkt. who is an Elite Popular Investor. To read the full exclusive article from Kenneth click here.
"I see some traders ask copiers to set the copy stop-loss (CSL) at the maximum level of 95%. Of course, nobody ever expects that they will ever lose that much, but it does happen. By incurring a 95% drawdown, you will need an unlikely 1900% gain to get back to break even before you can even start making any money." says Kenny Mowat.
Here is Kenny's cheat sheet for knowing how much gain you need for specific drawdown amounts: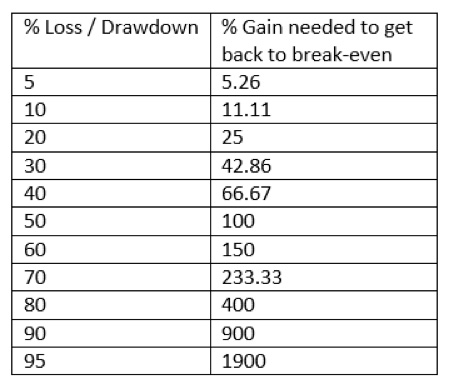 Read the rest of the 7 tips from Kenneth Mowat here.
10. Ask for advice and support from the traders you trust!
The majority of successful traders are loners who don't share their knowledge. They prefer to stay incognito.
Thus, before the development of copy trading platforms, finding a trustworthy way to interact with more experienced traders was very hard.
Sure, you can read books from traders but won't be able to ask them questions. You also won't be able to check their current portfolios. It's one thing to be a successful trader 20 years ago – the markets have changed, so you want to follow someone who is up-to-date with the current market conditions and who walks the talk.
So go ahead, follow some popular traders, ask them questions in the comments of their posts and pick their brains!
________________________
eToro is a multi-asset platform that offers both investing in stocks and crypto assets, as well as trading CFDs.
Please note that CFDs are complex instruments and come with a high risk of losing money rapidly due to leverage. 77% of retail investor accounts lose money when trading CFDs with this provider. You should consider whether you understand how CFDs work and whether you can afford to take the high risk of losing your money.
Past performance is not an indication of future results. The trading history presented is less than 5 complete years and may not suffice as a basis for an investment decision.
___
Disclaimer: Copy Trading does not amount to investment advice. The value of your investments may go up or down. Your capital is at risk. Cryptoasset investing is highly volatile and unregulated in some EU countries. No consumer protection. Tax on profits may apply.
eToro USA LLC does not offer CFDs and makes no representation and assumes no liability as to the accuracy or completeness of the content of this publication, which has been prepared by our partner utilizing publicly available non-entity specific information about eToro.