Find out what are your chances to be successful with forex and stock trading and which is the "riskiest" and which is the "safest" broker out there.
For the first time in the history of trading, you get to know the real statistics of how many investors actually lose money by trading CFD's like forex, stocks, commodities, etc.
One of the most popular questions bothering new forex traders has been "What percentage of forex traders make money?", "How risky is forex trading?". There was some speculation, but nobody had significant hard facts. Until now…
Most traders have heard the popular estimate that 96% to 99% of traders lose money. This figure has been circling around for many years, but it was more like a folk legend than a hard fact. There was some data from a couple of brokers, but it was impossible to get the results from all the market participants. But now the secret can be revealed thanks to the new regulations.
With the new European regulations that came into effect on August 1, 2018, brokers are required to display clearly on their marketing message what is the percentage of their clients that lose money. For example: "75% of retail investor accounts lose money when trading CFDs with this provider."
What percentage of forex traders lose money?
So we decided to gather the statistics from all of the established brokers to get a proper answer on what percentage of forex traders get positive results. It seems that we are the first ones to publish this information, so you are in the lucky place! 31 CFD brokers were surveyed overall and here are the results:
It turns out that the losing account percentage varies from 65% to 89%. And the average percentage of losing accounts is 77%.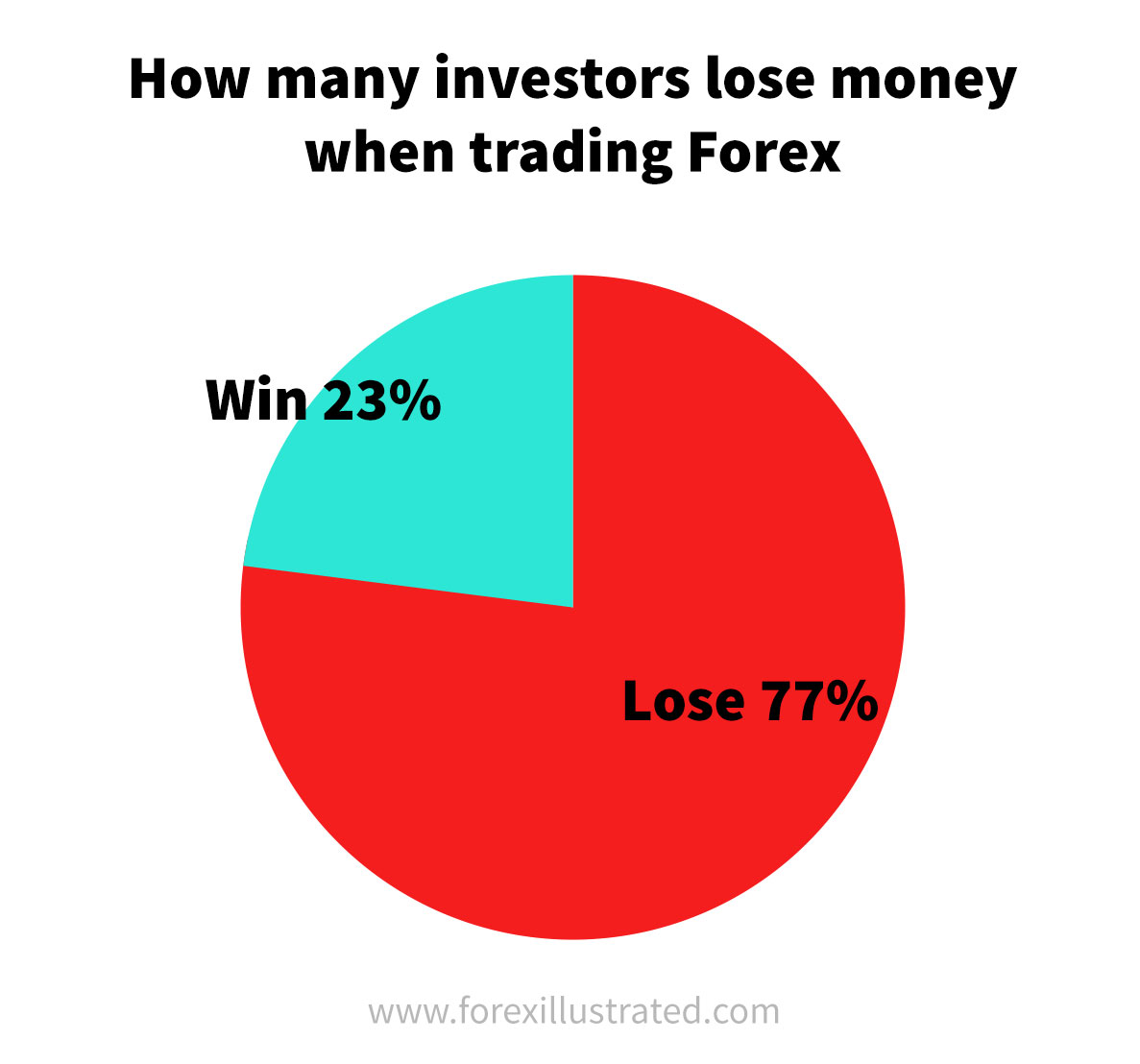 77% of accounts losing money still seems quite a lot, but it is much lower than the folk legend of 96%. So we can say that the myth has been busted! Given the fact that all business activities are risky and that more than 90% of startups fail, this number is not so bad after all.
Who are the winning brokers/trading providers
Now that we know the average losing percentages let's find out which trading providers report the lowest rates of losing investor accounts. Here are the Top5 (2021):
TOP5 Brokers with the
LOWEST

rate of losing accounts
3 Brokers with the
HIGHEST

rate of losing accounts:
ROinvesting: 89%
TradeMarkets.eu:  85%
ForexTB: 84%
Disclaimer:
CFDs are complex instruments and come with a high risk of losing money rapidly due to leverage. You should consider whether you understand how CFDs work, and whether you can afford to take the high risk of losing your money.