The WallStreetBets forum on Reddit is famous for its posts about violent trading losses. Users post screenshots from their Robinhood trading accounts with declining red charts.
The bigger the loss, the bigger the satisfaction for other forum members who suddenly don't feel so bad about their own losses.
In this article, you'll uncover nine brutal case studies from the WallStreetBets graveyard. In the end, you will also learn the one common trait and mistake that unifies these losers.
Unfortunately, due to the stock market crash that is currently developing, we might see more and more losses like this.
And remember, before trading with real money it's clever to try trading in a free trading simulator, where you can practice with real market prices, but with zero investment and no risk.
(#1) User "HateMyDarnJob" loses $45,398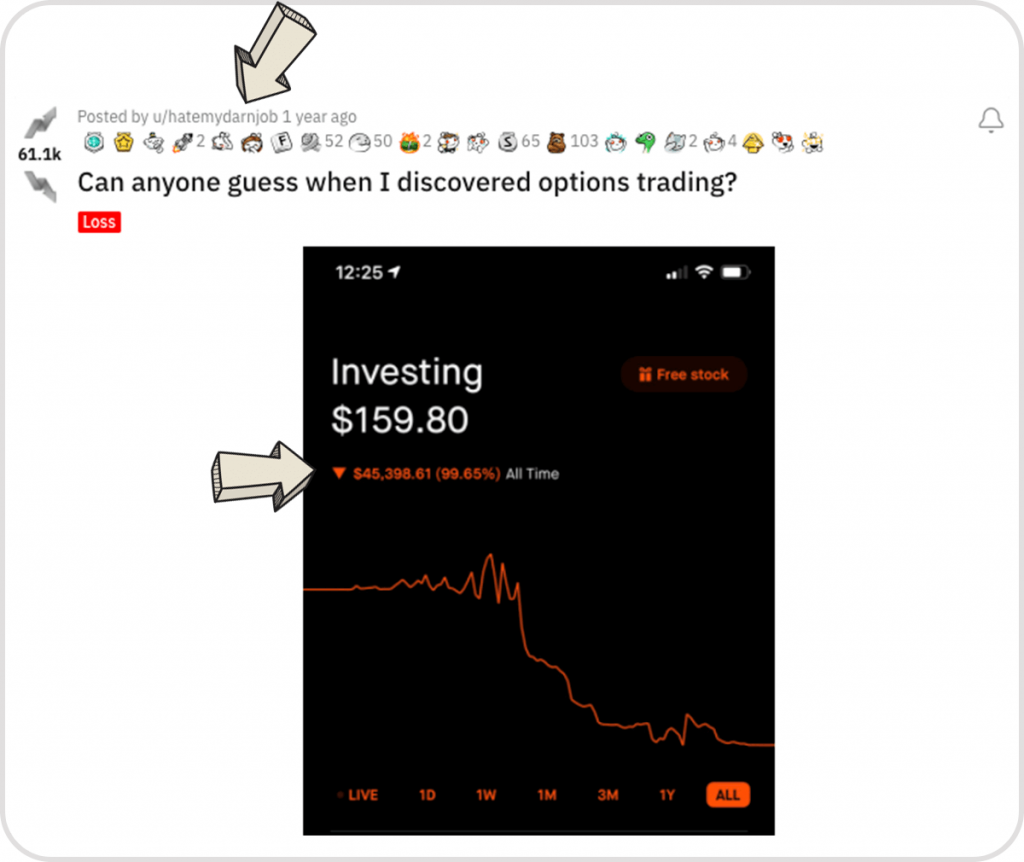 This guy's username (HateMyDarnJob) tells a story on its' own.
He hates his 9-5 job and wanted to get out of the rat race by becoming rich from trading.
He started with regular trading and just as he switched to options trading his account started to fall and he lost all his savings.
Now he'll be able to upgrade his 9am-5pm job to a 5am-9 pm job.
His advice to other traders:
This is for all the newbies who think it's a "get rich quick scheme" from seeing the recent gain porn. Those people are literally 5-10 people out of 9 million of us. Not saying don't trade options, just be careful. Also, I'm a full on degenerate bastard. I bet 20-30-40k on combat sports at a time. Play with shit you can lose, please. I hate to see posts with "Lost my life savings and don't know what to do"."
? Funniest comment:

---
(#2) A newbie trader loses $59,905 on his first day trading GameStop options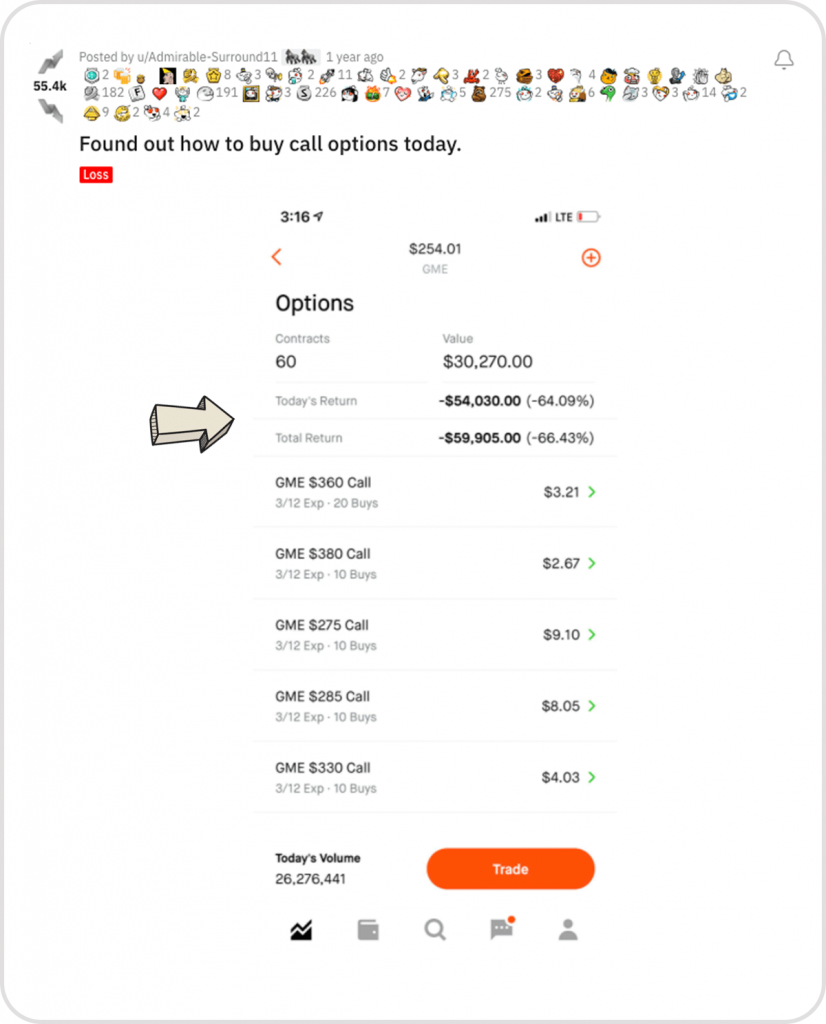 This is a classic story of bad timing and GameStop stock options traders who suffered from GameStop's hyper volatility.
This person bought $90 thousand worth of options that expire the next day, which is close to being a financial suicide.
He posted his loss on March 11, right at the peak of the second GameStop rally.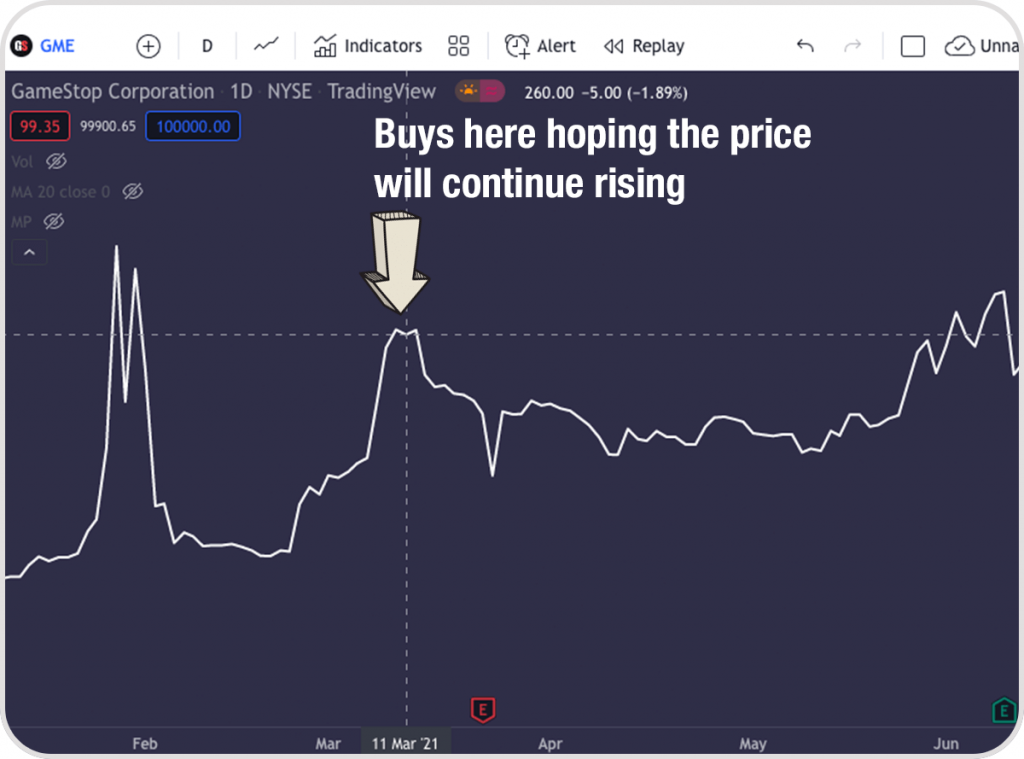 Such a giant rally increases the implied volatility of the stock. It means that the market is pricing in the 100% moves in the share prices. Basically, it's 100% riskier to trade.
? Funniest comment:

---
(#3) 18-year-old kid made $140k+ and quickly lost it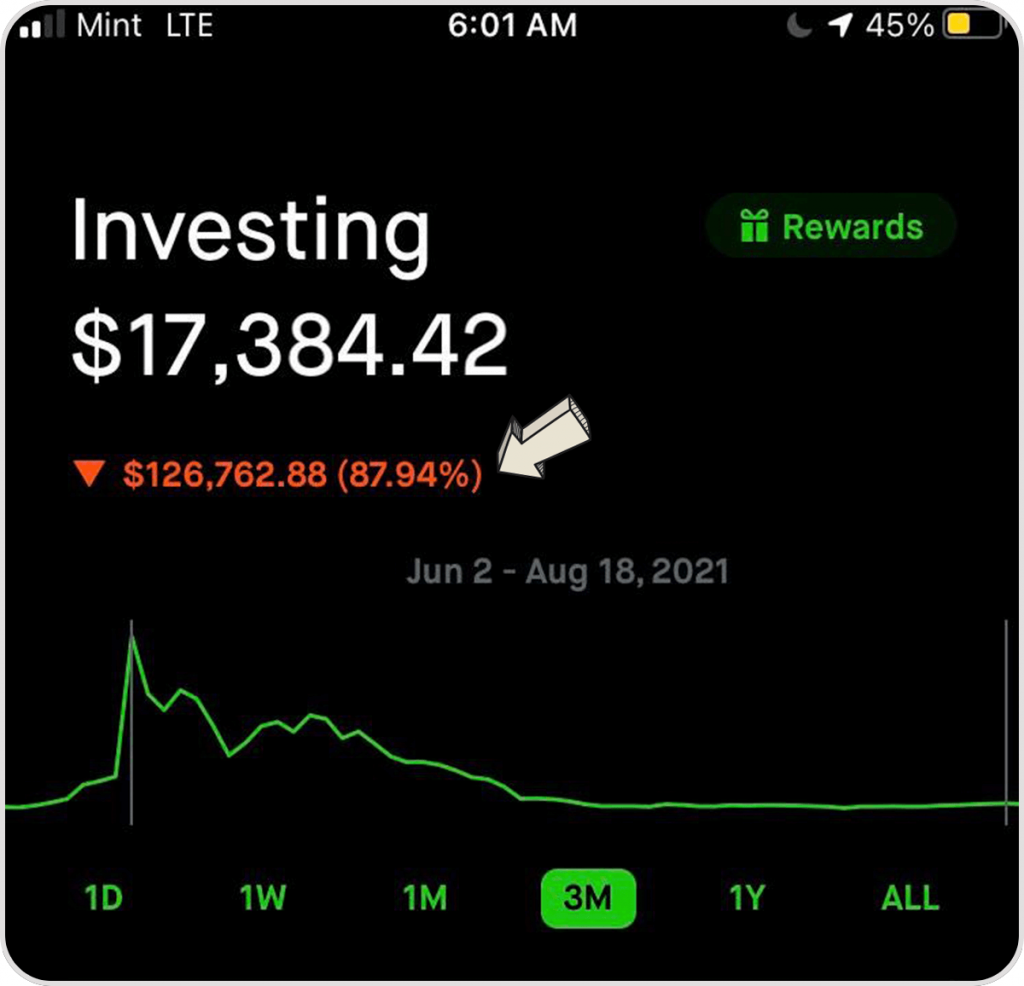 This kid got lucky and made ~$143k from a couple of grand he had initially.
Then a classic story.
Increased his position sizes and lost 88% of his crazy gains.
? Funniest comment:

---
(#X) You should lose virtual cash before losing your real money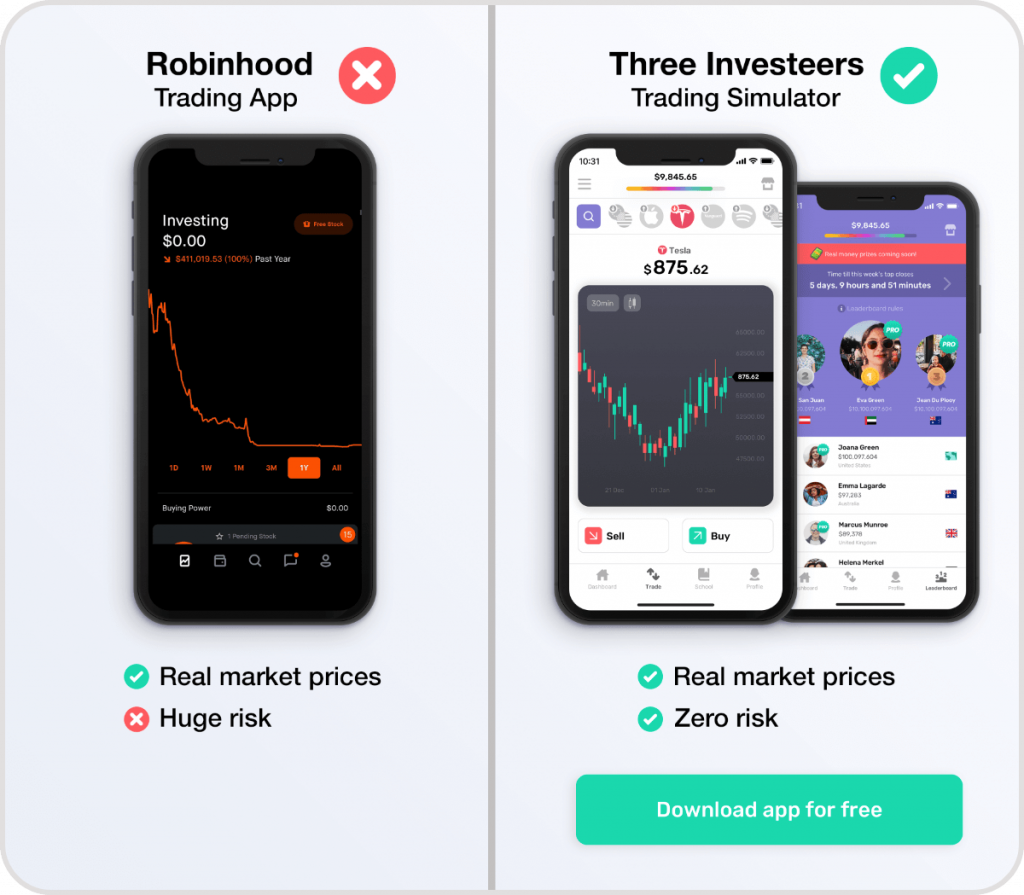 If you want to try trading, but are afraid of suffering losses like the guys in this article, you should check out the trading simulator game where you'll get $100k of game money to practice the basics of trading and price action.
Instead of competing against your savings, you will have the chance to compete against other users on the weekly leaderboards.
Now back to the painful losses.
---
(#4) Jack loses $228,734 in a month and receives a sadly funny letter from Fidelity bank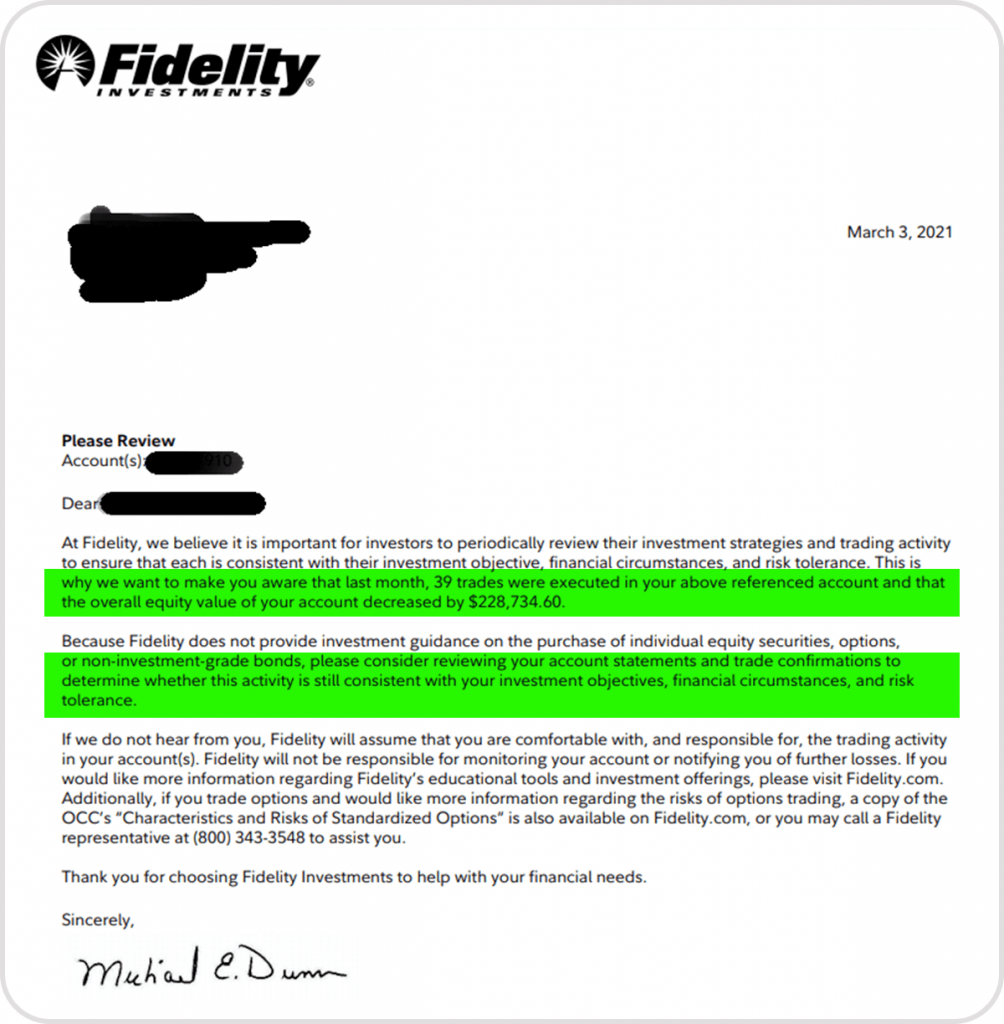 Imagine receiving such a letter from your broker/bank:
"We want to make you aware that last month, 39 trades were executed in your account and that the overall equity value of your account decreased by $2228,734.60. Please consider reviewing your account statements to determine whether this activity is still consistent with your investment objectives, financial circumstances, and risk tolerance."
You don't have to be a banker to understand that losing more than a quarter of a million in a month probably was not consistent with his investment objectives.
Jack himself wrote this: "Fidelity sent me a letter to let me know I'm retarded."
? Funniest comment: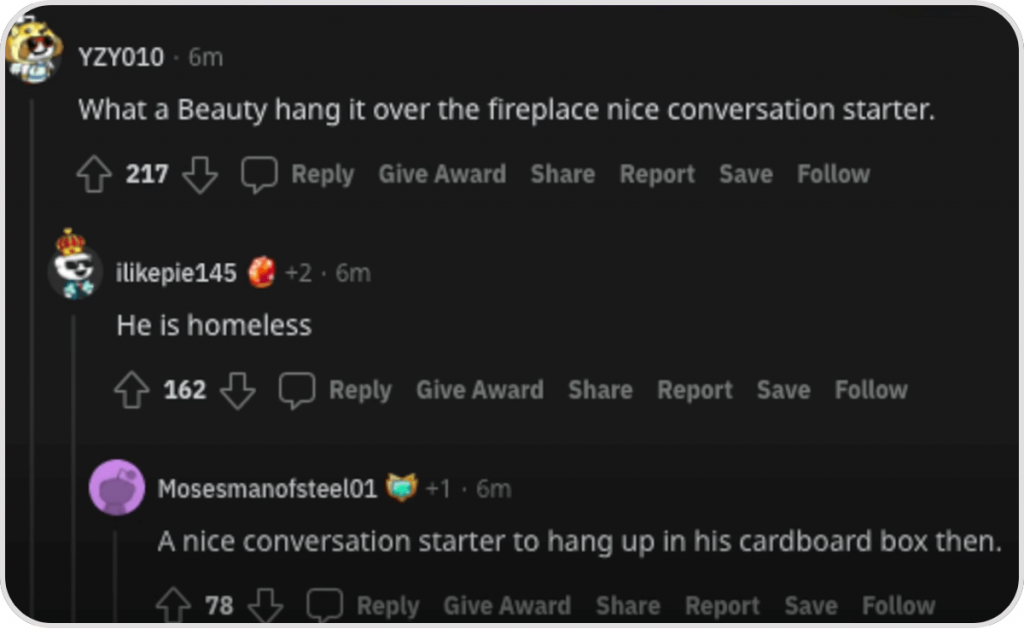 ---
(#5) Memorable year in my life! 400K plus loss in a year. Won't go back to Robinhood.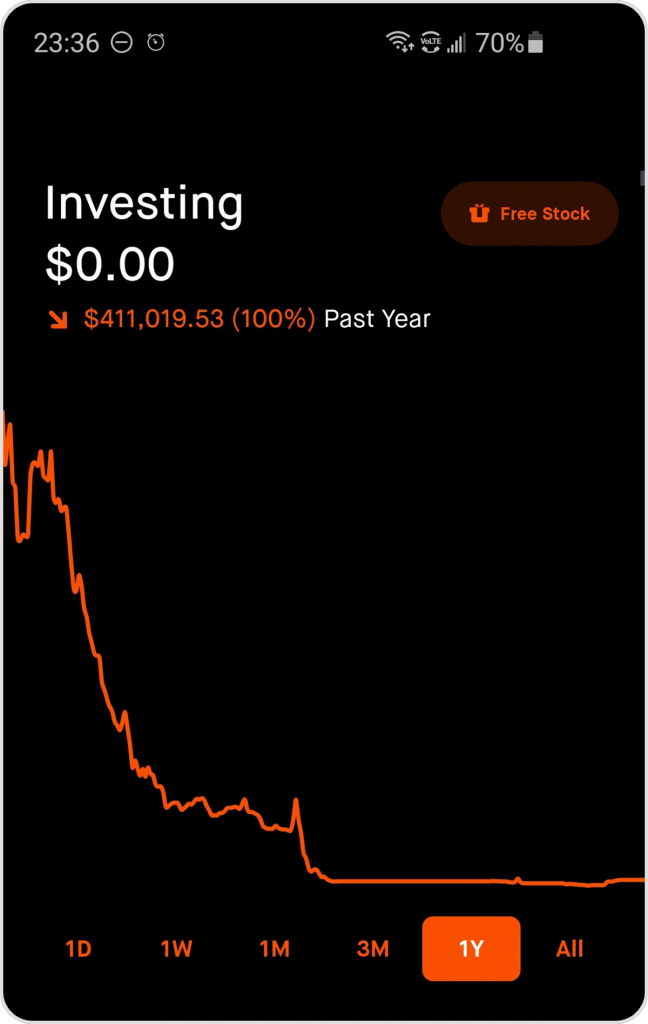 This poor trader posted his loss in Nov 2020, which means that the S&P 500 gained over 50% six months prior to him losing almost half a million dollars.
Yet he still thought it was the fault of his trading application. ?
It's remarkable how consistent his losses have been when the overall market was rising like crazy.
He could switch his strategy upside down and sell it for a good price.
? Funniest comment: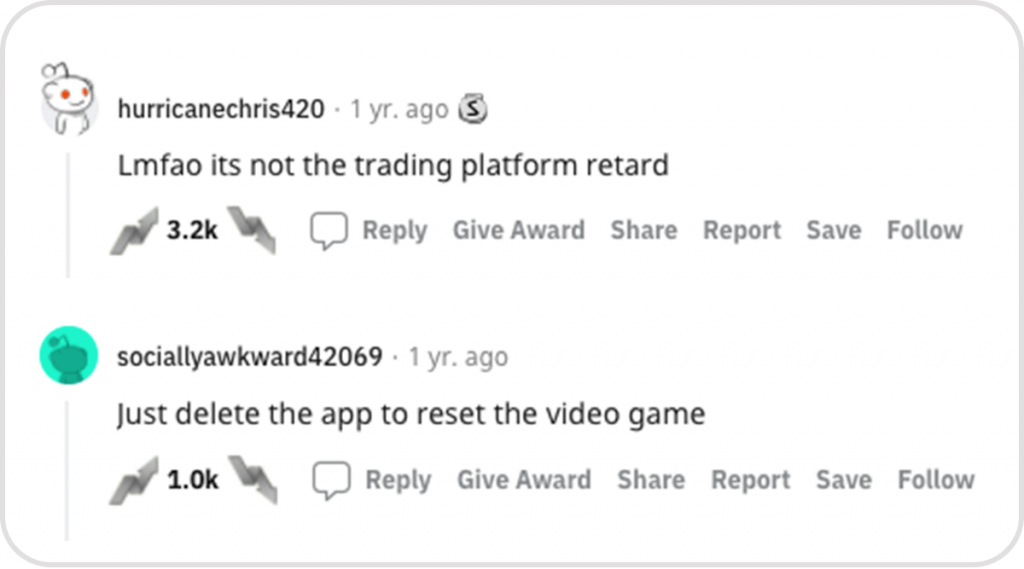 ---
(#6) My life is ruined. I'm officially bankrupt tomorrow. Lost 500k
This trader bet all his money on American Airlines, which was not a bad bet for the pandemic recovery…
…if he invested in actual stocks instead of stock options, which are way more volatile.
Warren Buffett once said: "Diversification may preserve wealth, but concentration builds wealth."
Apparently, this beginner trader thought he was still in the building phase with $500 million.
? Funniest comment:

---
(#7) YOLO-ed my second mortgage. 35k to 5mil to 300k.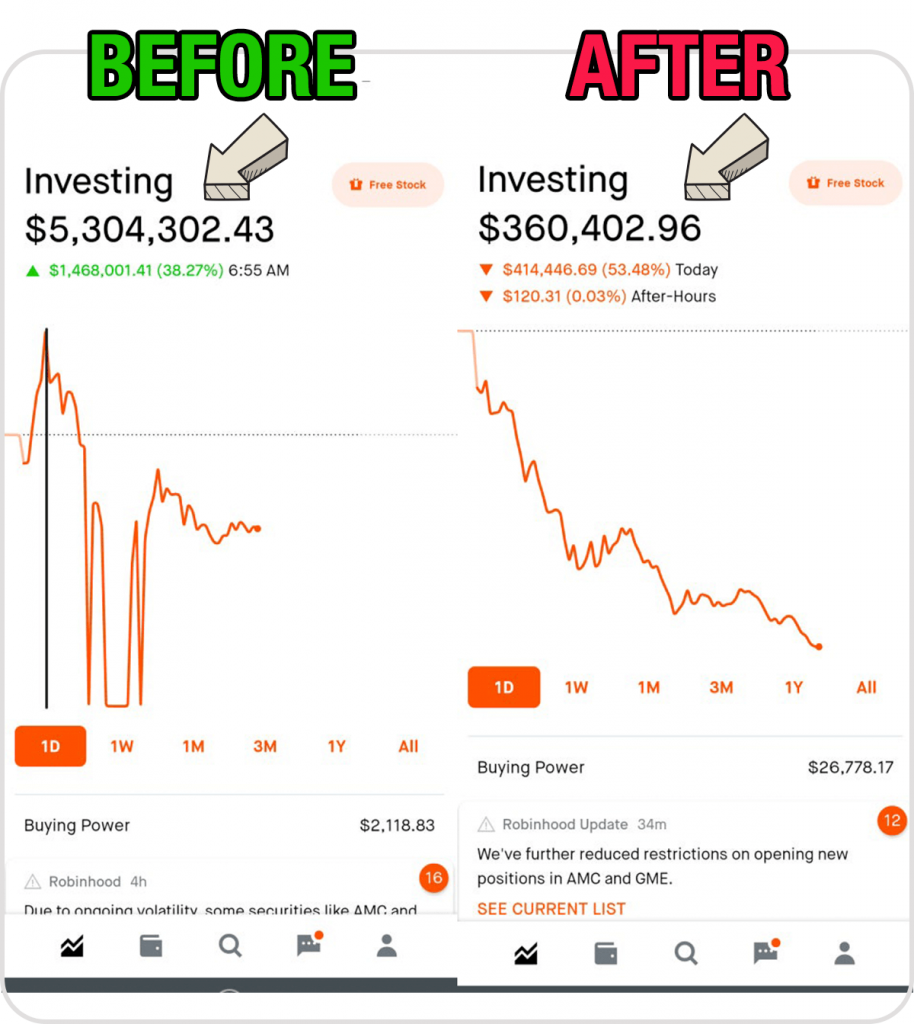 So this trader apparently took out his second!!! mortgage, turned $35k to $5.3 million trading GameStop options…
…and didn't cash out.
Can you imagine that?
He just kept trading all of it and reduced the $5 million to $300k.
Which is still big money, but… jeez.
When is it enough?
If he invested the $5 million into an index fund, he could be generating over $300k per year on auto-pilot.
? Funniest comment:

---
(#8) Down $1.1 Million over the week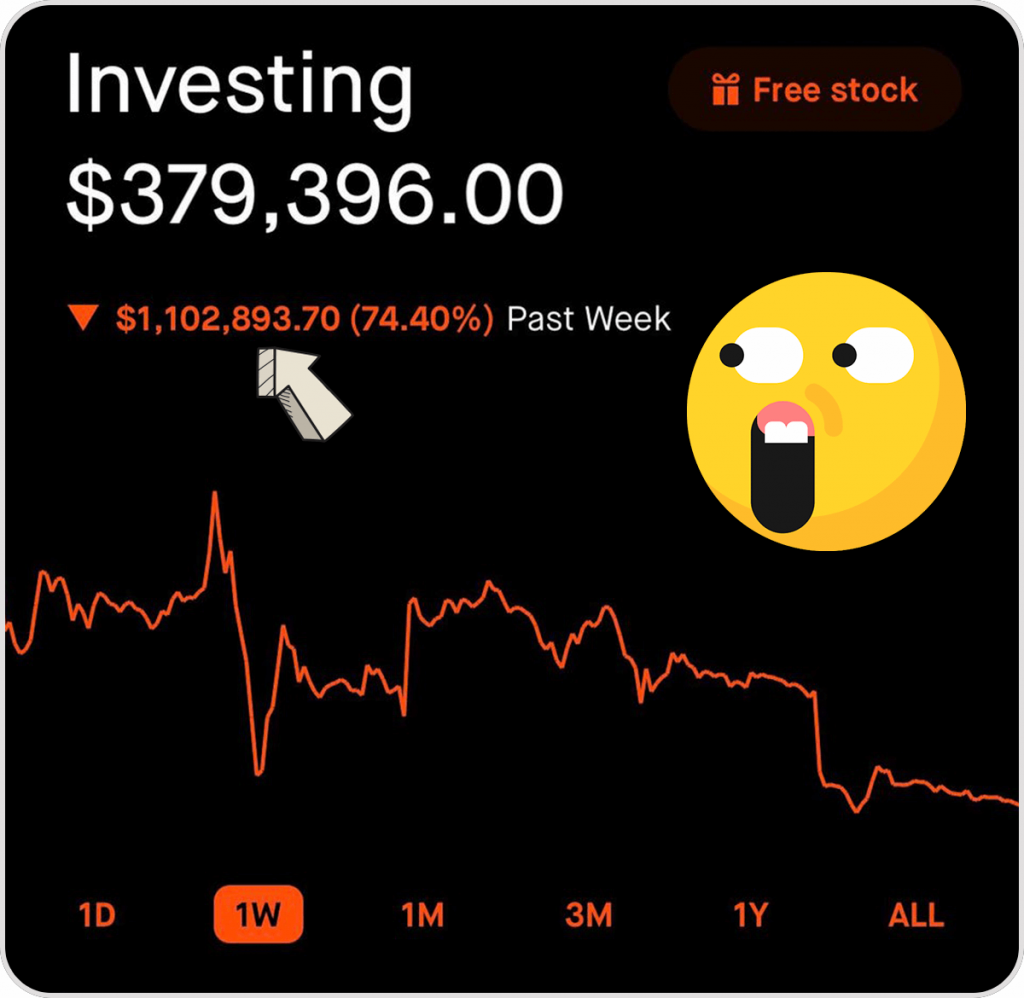 A trader with the username MingBearPig27 lost $1.1 million in a week and everybody was cheering him up for having diamond hands (that he's not closing his position yet).
He still had $379k to lose before he hit zero, so there was apparently "nothing" to worry about.
? Funniest comment: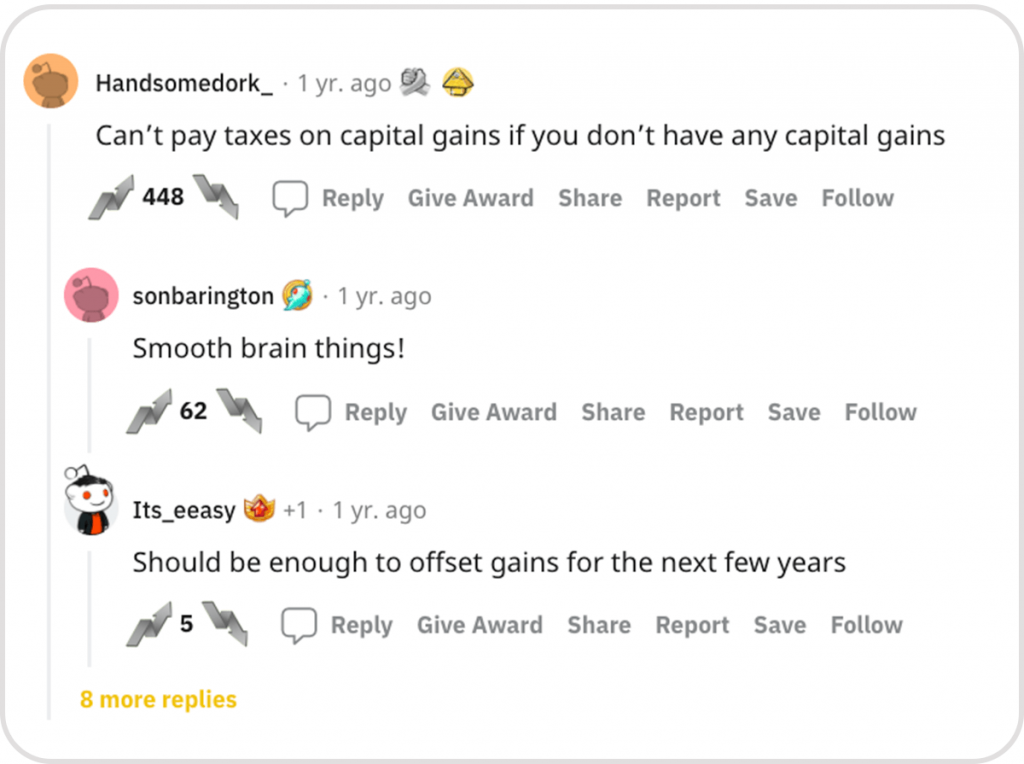 ---
(#9) I will cut off my di*k if GameStop closes below $450
If we're talking about painful losses, this is probably the pinnacle of them all.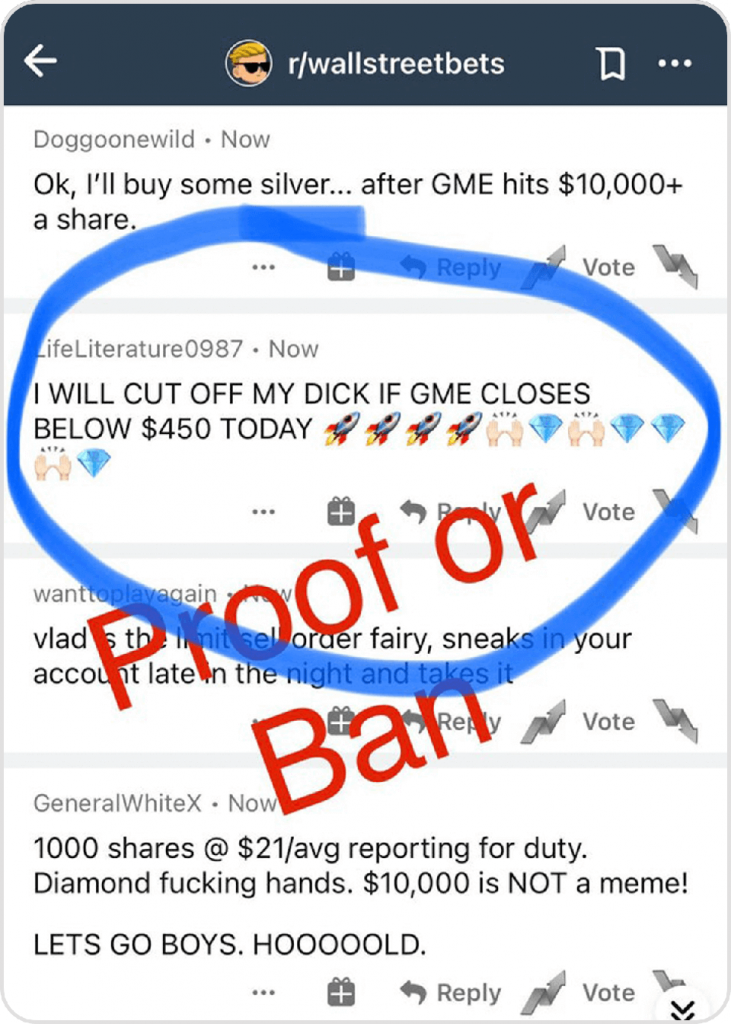 This post didn't age well.
As the price did drop below $450.
Suddenly, losing a million in a week doesn't feel so painful anymore.
? Funniest comment:

Key takeaways
No matter how much money you make, it will never feel enough. Especially when it's just numbers on a screen and you don't have to lift heavy boxes to make that money.
What are the two most common traits among all these losses?
Greed.
Absence of any exit strategy.
Remember the old saying – if it's good enough to screenshot, it's good enough to sell and cash out!
However, these are all problems of reckless behavior in a rising bull market. As the markets are starting to decline and a financial crisis might be on the horizon, a different set of problems arise.
To stay away from big losses in a bear market it's crucial to know the market crash prediction signs that guys like Warren Buffett use to assess the state of the market. But that's a topic for another discussion.
You might also like these 2 articles:
→ 3 Biggest Forex Trades of George Soros